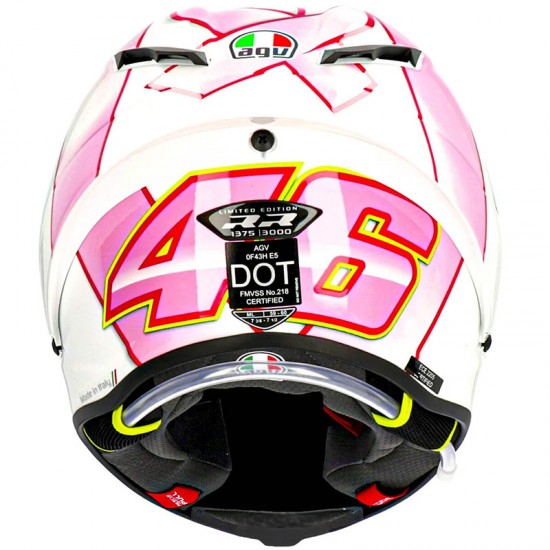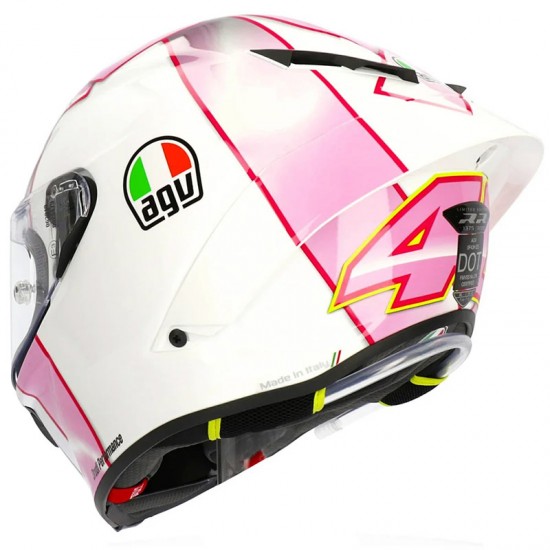 -23 %


AGV PISTA GP RR ROSSI MISANO 2021 HELMET
The price is all inclusive of Shipping Charges, Custom Duties and Taxes for the Spain.

The PISTA GP RR LIMITED EDITION ROSSI MISANO 2021 brings the celebration of the coming birth of the nine-time World Champion's firstborn daughter to the track. The new graphics have already become legendary, on
the helmet worn at the San Marino GP and Rimini Riviera GP for Valentino Rossi's next to last outing on his home circuit of Misano before announcing his retirement at the end of the season.
The unique graphics are characterized by a pink bow around the entire shell to celebrate the little Rossi, and the ever-present number 46 with a border in the Doctor's classic yellow.
A design that has already made history, on the most advanced racing helmet in the world.

The ultimate race helmet from AGV, an exact replica that is worn by professional riders is now available to everyone. Full Carbon & Hydration ready. ECE, DOT, FIM Homologation. The helmet created for MotoGP™ is now available to every rider. Pista GP RR is an exact replica of the AGV helmet used in races by professional world championship riders. It has therefore received FIM homologation, which certifi es the highest possible level of protection, even against any dangerous twisting. ACCESSORIES INCLUDED Earplugs Hydration system Interiors customization kit: top crown pad, rear crown pad, cheek pads, Tear-off kit Vents covers. Smoke visor.
AERODYNAMICS Detachable PRO Spoiler Race suit fitment INTERIORS 2Dry: instant sweat absorption 3-piece adaptable crown pad fit 360° Adaptive fit Cheek pads safety release system Cheek pads: Shalimar fabric for soft and stable fit even at high speed Crown pad: elastic and breathable microfiber Embracing neck roll profile Microsense: premium skin comfort Neck roll: breathable fabric with elastic and waterproof inserts No stitches in sensitive areas Removable and washable interiors Removable nose guard Removable wind protector Sanitized: antibacterial protection RETENTION SYSTEM Titanium Double D SHELL 100% Carbon fiber 4 shell sizes 5-density EPS developed in 4 sizes Collarbone safe profile Shell and EPS structure designed to minimize rotational accelerations (FIM homologated) VENTILATION 2 rear extractors 5 front vents Metal air vents and extractors VISOR 100% Max Vision Pinlock (120) included 190° horizontal field of view 5mm thickness 85° vertical field of view Anti-scratch Metal visor mechanism Micro-opening system Optic class 1 Patented Extra Quick Release System Patented visor lock system WEIGHT 1.450 g in first shell size.