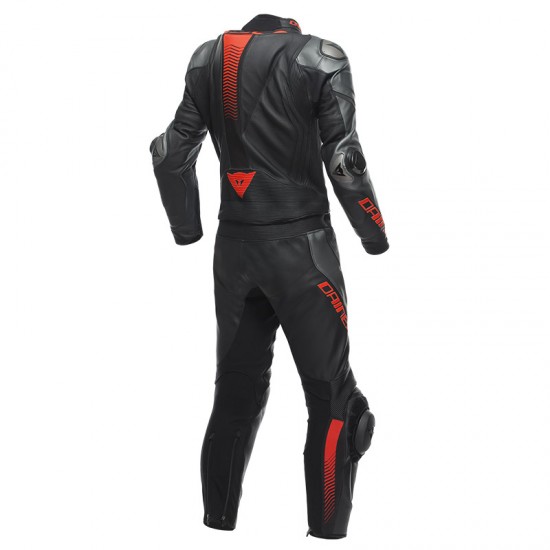 -20 %

Dainese Laguna Seca 5 2 Pcs Black Red Suits
The price is all inclusive of Shipping Charges, Custom Duties and Taxes for the Spain.

2-piece leather motorcycle suit with Tri-Axial stretch insert on the back and soft Pro-Shape 2.0 protectors. Ergonomic, versatile and protective.

Racing leather suit icon, Laguna Seca 5 2PCS is the essence of sporty road driving. This is the short/tall version dedicated to those who need a higher or lower fit than the standard version. Made entirely of Tutu cowhide, thanks to its extremely elastic construction it follows the movements of the rider and the shapes of his body, reaching maximum levels of ergonomics and mobility: the presence of the Tri-Axial stretch system on the back, combined with Microelastic 2.0 elastic leather inserts and S1 stretch fabric inserts, allows maximum comfort of movement while riding. Comfort is also optimized by the presence of the fastening system at the waist between jacket and trousers.
Safety and protection come from direct experience on the track: composite protectors on shoulders, elbows and knees, Pro-Shape 2.0 soft protectors on the hips and removable sliders on the elbows (RSS) are combined with interchangeable aluminium plates on the shoulders, a Dainese hallmark. The presence of metal inserts on the shoulders allows to support the slipping in case of fall, reducing the grip on the asphalt and avoiding the triggering of dangerous rolling. The breathable lining with 3D bubble fabric inserts and the ventilation zips on the sides and thighs guarantee high levels of thermal comfort even at the highest temperatures.
1 inside pocket
Interchangeable elbow sliders
Interchangeable knee slider.
Pockets for Pro-Armor Chest 2 pcs.
Replaceable Slider System 2.0: elbow slider can be quickly released
Seamless thermoformed soft inserts
ERGONOMICS
Aerodynamic spoiler
Collar with stretch insert
Stretch fabric inserts
Integrated coupling system between suit and boots
Microelastic 2.0
Tri-axial stretch system on the back
MAIN MATERIALS
Aluminium
Bi-stretch fabric S1
Tutu cowhide
PERFORMANCE SHOCK
Composite protectors certified according to EN 1621.1 on the elbows
Composite protectors certified according to EN 1621.1 on the knees
Composite protectors certified according to EN 1621.1 on the shoulders
Pro-Shape 2.0: soft protector certified according to EN 1621.1
Replaceable aluminum plate on the shoulders (1876165 sports shoulder aluminum kit)
Seamless aluminum plates on the elbows
TEMPERATURE
Air vents on the thighs
Breathable mesh lining
Mid season
INTERIORS
Reflective inserts
IMPERMEABILITY
No
WEARABILITY
Slim.