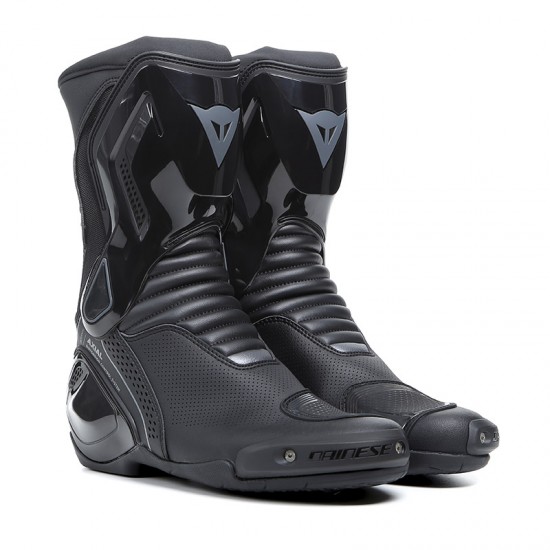 -23 %

Dainese Nexus 2 Air Black Boots
The price is all inclusive of Shipping Charges, Custom Duties and Taxes for the Spain.

The Dainese Nexus 2 Air sport motorcycle boots with certified protectors are made of microfiber and DStone, with a perforated upper section to allow for air flow and optimal ventilation in case of warmer temperatures. Equipped with a nylon insert at the heel, replaceable thermoplastic sliders and the Axial Distortion Control ankle joint bending System guarantee high levels of protection, maximum comfort, and lightness.
OVERVIEW
Motorcycle boots with certified and
enhanced ankle protection, perforated panel
on the front for optimal ventilation and Axial
Distortion Control System.
TEMPERATURE
Perforated upper
ERGONOMICS
Flexible joints for extra walking comfort
Closing with zipper at the back
CHARACTERISTICS
Gear shifter guard
High grip TPU inserts
Rubber sole with differentiated design
Setscrew wrench supplied
MAIN MATERIALS
D-Stone™ fabric
Upper in microfiber
PERFORMANCE SHOCK
Certified boots to CE
- Cat. II
- EN 13634
Standard
Nylon heel
Protective nylon inner hull
Reinforced nylon toe
Replaceable plastic slider (1999885 Stainless
Steel Boot Slider Kit, 1996252 Plastic Slider
Kit. 08)
Thermoplastic polyurethane inserts on the
shin
Internal AXIAL Distorsion Control System.